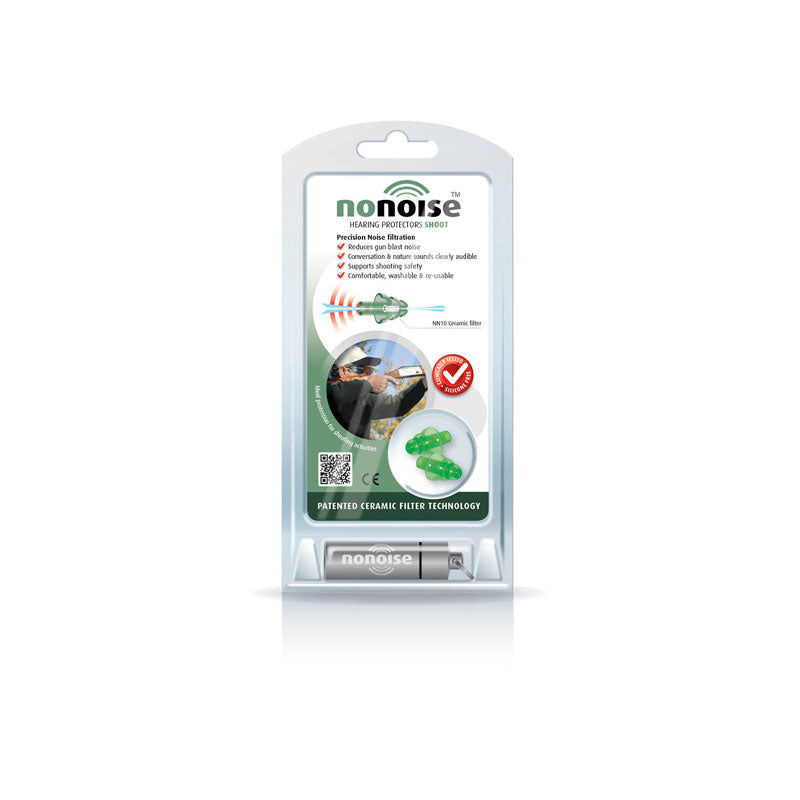 $29.00
$0.00
NoNoise Shoot
Shooting activities can produce noises levels up to 150dB. Permanent hearing damage can occur from 85dB.
Developed over 20 years by leading audiology experts, NoNoise SHOOT Hearing Protectors are superior to traditional foam, wax or silicone earplugs.  Precision-tuned, patented ceramic sound filters ensure maximum protection from shooting and other extreme noise activities like fireworks, yet allow you to listen clearly to surrounding conversation without a muffled effect.
So what do the NoNoise plugs do? They reduce gun blast noise and allow for normal conversation & nature sounds to get through to your ears with no muffling.  They are comfortable, washable and re-usable and are of a silicone free construction. The plugs exceed strict European EN352-2 guidelines and are certified to ISO9001:2008.
Please note, NoNoise earplugs do not claim to be FULL BLOCKS.  NoNoise earplugs are designed to protect your hearing from harmful noise levels while allowing lower level noises such as conversations to be heard.  If you decide to purchase a NoNoise product and open the packaging and insert the plugs into your ears, they cannot be returned.
Best protection
If you want reliable ear protection this is for you. Easy to place in position and remove and store.