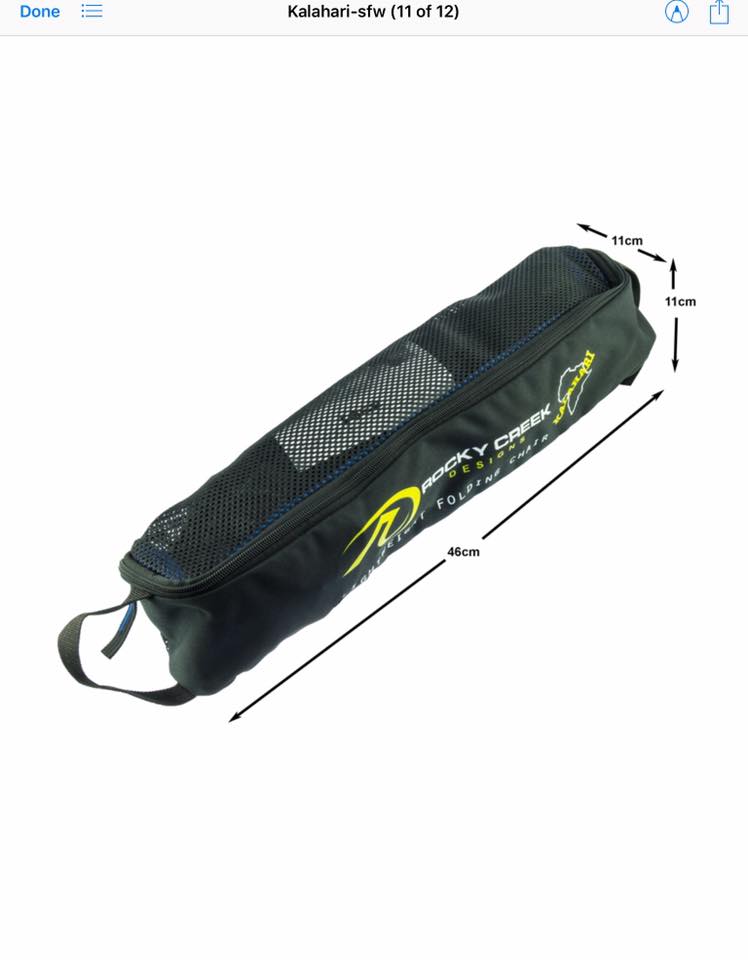 $89.00
$0.00
Kalahari Chair - Medium
Stores small, super light, super strong and offers a little extra luxury after a long day's ride.
You've had a wonderful day's ride, you've set up camp, time to relax and let the BS flow. Is there anything worse than parking your derriere on the ground or a hard stump? Not anymore! This simple, lightweight chair offers a seriously comfortable "Apres ride" experience.
This is one of our mid-size chair. Taller than the Mini Bikerz Chair AND rated to 120kg*. . Made from super strong 7075 Aluminium Alloy poles the chair weighs in at a mere 1.33kg. The synthetic cover is made of mesh, making it breathable and quick drying so you can sit in comfort no matter what the weather. When you're done, the Kalahari breaks down and packs into it's own storage bag (49 x 12 x 10cm), making transport an absolute breeze.
Once setup the overall height of the chair is 84cm, the seat width is 54cm and the seat height is 46cm. Easy to setup, easy to break down and easy to transport, the Rocky Creek Designs Kalahari Chair is ideal for your trips away when you want a little extra luxury.
Kalahari Chair
Quick delivery and the chair is perfick.
Kalahari chair
Great service from rocky creek and the chair is a ripper.
Kalahari Chair
I recently purchased a Kalahari chair and it was exactly as I expected easy to construct and comfortable , folds down small in a well constructed bag . I will be taking it travelling on my motorcycle . excellent sales and delivery service .
Rocky Creek Designs Kalahari Camping Chair
A really well made product. Looks great, packs small and light and best of all its comfortable. 5 stars from Me. See my review https://youtu.be/074h6mIcHfM
Kalahari chair.
Great light weight chair. I can't wait to take it out camping on the bike.